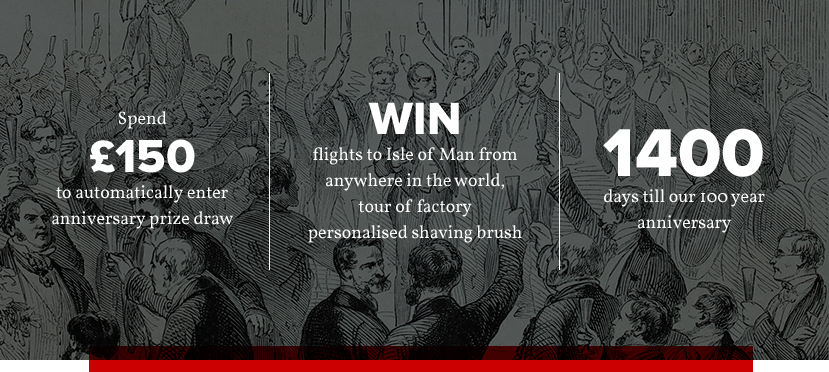 A. E. Simpson 100 Year Anniversary
In 2019 Simpson will be celebrating 100 years of manufacturing the finest shaving brushes in the world and we are marking this momentous occasion by giving you the chance to personally visit our factory on the Isle of Man.
days till our 100 year anniversary

Prize DrawAnyone who spends in excess of £150 on Simpson products will be automatically registered in a prize draw on the 1st January 2019.
The Prize
Yes, as incredible as it might seem, we are giving one lucky individual and their guest the chance to visit the beautiful Isle of Man to tour our factory and help create their very own bespoke Simpson shaving brush.
Any person that spends over £150.00 in a single transaction from our website www.simpsonshavingbrushes.com will be entered on to our customer database. In the early part of 2019 we will randomly contact one of these customers and offer them the chance to join us here at The Brushworks. We will fly them here from anywhere around the world, put them up in one of the Island's finest hotels & make their visit to the Isle of Man & Simpson Shaving Brushes unforgettable.
During their visit they will get the chance to tour our production facility, view & assist in the manufacturing process and take home their own truly hand-made shaving brush that they helped create! 
100 years of brush making deserves a special celebration - join us!